SANTA CROCE VR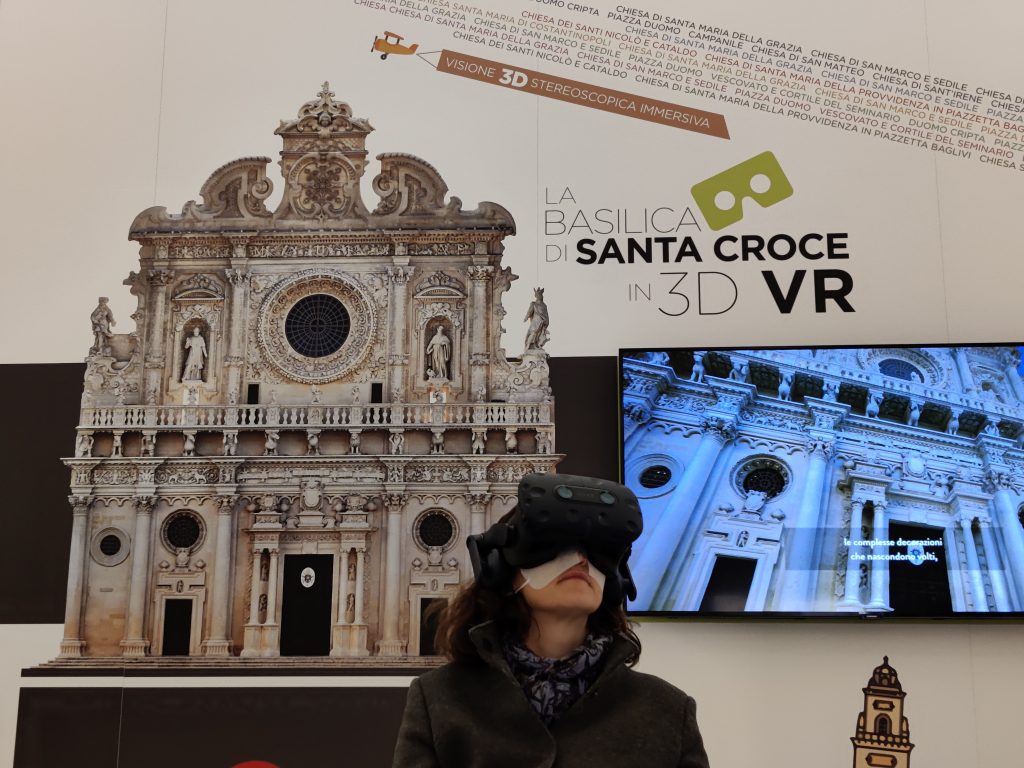 A Lecce, la Basilica di Santa Croce come non l'avete mai vista.
Partecipando al progetto "Cross the gap – Accessibility for social and cultural inclusion", Irrazionali ha potuto costruire un'esperienza in VR unica nel suo genere, curando il percorso narrativo e le modalità di interazione in modo da garantire una visita virtuale al tempo stesso rilevante e realmente accessibile.
La Basilica di Santa Croce è considerata una delle meraviglie artistiche della città di Lecce. Ad un primo sguardo la splendida facciata ed il convento dei Celestini sembrano il frutto di un progetto unitario.
In realtà la fabbrica della basilica si protrasse per più di un secolo e vide al lavoro tra le sue mura alcuni dei più importanti architetti e scultori che operavano in Terra d'Otranto. La costruzione ebbe inizio alla metà del Cinquecento, sotto la guida di Gabriele Riccardi, nell'area in cui in precedenza era insediata la comunità ebraica della città.
La basilica, la sua imponente facciata, le complesse decorazioni che nascondono volti, le immagini allegoriche scolpite nella pietra, avevano un significato preciso: il trionfo della Croce, che campeggia in alto, nel fastigio, opera meravigliosa di Giuseppe Zimbalo.
______________________________

[ENG] The Basilica of Santa Croce is considered one of the artistic wonders of the City of Lecce.
At first glance, the splendid façace and the Celestine Convent appear to be the result of a unitary design. In reality, the building of the Basilica went on for more than a century and within its walls worked some of the most important architects and sculptors operative in the Terra d'Otranto area. Construction began in the mid-16th century under the leadership of Gabriele Riccardi, in the area where the city's Jewish community had previously settled. The basilica, its imposing façade, the complex decorations concealing faces, and the allegorical images carved into the stone had a precise meaning: the triumph of the Cross, dominating from on high at the apex. A marvelous work by Giuseppe Zimbalo.
______________________________

Iniziativa promossa dal Comune di Lecce per il progetto Cross the Gap.
Contenuti, modelli 3D e rilievo fotogrammetrico a cura di Techné s.a.s.
______________________________

Info e prenotazioni: